Nature & Outdoor Activites

Turkey with such a long coastline along the sea and with its mountains offers many outdoor activity alternatives such as swimming, skiing, hunting, camping, water rafting, paragliding, sailing, hiking, biking, horseback riding, hot air ballooning and many others.
Diving:
During the spring and summer months, underwater diving is a sport that you can see underwater caverns and sunken ships. Kaş, Kemer, Bodrum, and Saros are the most important places for diving.

Rafting:
Many rivers also gives you the great opportunities for water rafting, canoeing and water skiing. You could visit the Artivin Çoruh River, Rize Fırtına River, and Dalaman River as the best rafting places.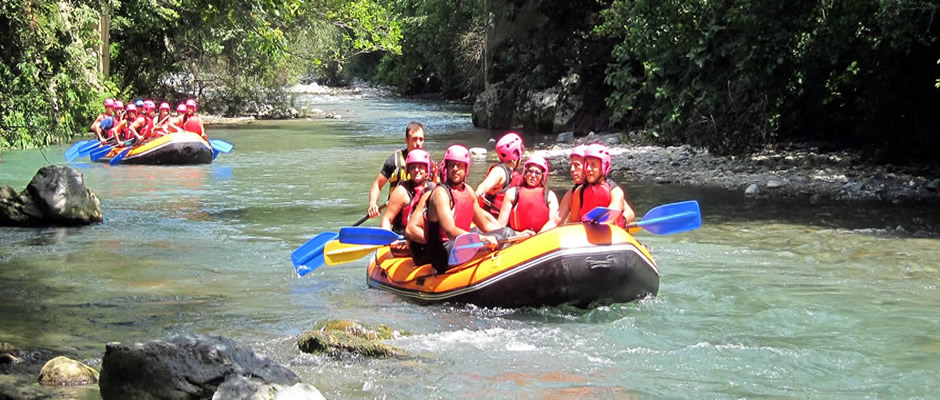 Winter sports:
Turkey has also many mountains that offer winter sport activities during your stay. Kartepe mountain in Maşukiye which is the most beutiful village of Sapanca region. This is the closest mountain from Istanbul and takes only 1 h 30 minutes by driving. You could also have the opportunity to enjoy ATV Tours, horse riding and paintball activities in Sapanca region.
Bursa-Uludağ mountain, Antalya-Saklıkent, Bolu-Kartalkaya Ilgaz Mountain are only few other well know winter tourism places in Turkey.
Whether you play golf in Antalya with an international quality, doing snorkel in Dalyan Ekincik Bay, having a balloon tour in Cappadocia, doing winter activities in Uludag Mountain or you are a fond of air sports such as Paragliding, Glider, Parachute and Balloon, you'll discover amazing things to do and see in Turkey.
The country also has an abundance of plant and wildlife species that can be enjoyed while camping or trekking in the many national parks which are dotted around the country.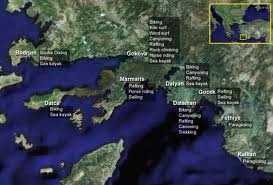 With its excellent facilities of the country, The Allure Travel will offer the package alternatives and give you the opportunity to experience a range of activities during your stay.








OUTDOOR ACTIVITIES IN TURKEY
MOUNTAIN ACTIVITIES
Trekking
Rock Climbing
Mountain biking
Skiing
Snowboarding
Toroslar
Kaçkarlar
Cappadocia
Adapazarı-Sülüklügöl
Kazankaya
Madenderesi
İzmit-Aytepe
Menekşe Yaylası
İnönü Yaylası
Serindere
Yuvacık
Yalova-Erikli Yaylası
Su düşen
İznik Gölü
Sansarak
Gebze-Ballıkayalar Kanyonu
Bilecik-Osmanlı-Pelitözü
Fethiye-Faralya
Antalya-Akyarlar
İstanbul-Belgrad
Çeşme
Alaçatı
Ağrı-Bubi Dağı
Ankara-Elmadağ
Antalya-Saklıkent
Bingöl-Yolaçtı
Bursa-Uludağ
Kolu-Kartalkaya
Erzurum-Palandöken
Kastamonu-Ilgaz
Erzurum-Palandöken
Kars-Sarıkamış
Bolu-Kartalkaya
Bursa-Uludağ
Kayseri-Erciyes
Bolu-Ilgaz
Kayseri-Erciyes
Bolu-Ilgaz
Kocaeli-Kartepe
Antalya-Saklıkent
FOREST ACTIVITIES
Hunting
Camping
Paintball
All Turkey
Kuş Adası-Dilek parkı
Fethiye-Kelebekler Vadisi
Edremit - Zeytinli
Marmaris-Gökova
Ölüdeniz
İnegöl
İzmir
Kalamış
Kilyos

WATER & SEA ACTIVITIES
Snorkeling
Scuba Diving
Parasailing
Rafting
Yatching
Windsurfing
Mordoğan
Çandarlı Körfezi
Foça - Çeşme (between)
Sığacık
Kotan
Bodrum Yarımadası
Anamur - Mersin (between)
Üçadalar - Antalya
Kaş-Bodrum
Orak Adası
Büyük Resif
Poyraz Burnu
Fener Burnu-Fethiye
Şahinburnu
Dalyan Sarıgerme Çanakkale Kabatepe
Antalya-Kaş
Denizli
Isparta
Erzincan
Eskişehir
Erzurum
İzmir
Bolu
Akşehir
Çoruh Nehri
Manavgat Çayı
Melen
Köprüçay Dim Çayı
Alara Çayı
Dalaman Çayı
İzmir
Kuşadası
Bodrum
Datça
Bozburun
Marmaris
Göcek
Fethiye
Kalkan
Kaş
Finike
Kemer
Antalya
İstanbul-Büyükçekmece
Saros Körfezi
Gümüşdere
Tuzla
Çeşme Alaçatı
Ilıca
Bodrum-Bitez
Datça
AERO ACTIVITIES
Paraglidding
Balooning
Parachute
Fethiye-Ölüdeniz
Denizli
Pamukkale
Bolu-Abant
Denizli-Kaklık
Cappadocia
Antalya
Muğla -Fethiye
Denizli-Pamukkale
Ankara-Gölbaşı
Bolu-Abant
Antalya-Aksu
FAMILY ACTIVITIES
National Parks
Funfair
Antalya - Olympos
Termessos
Balıkesir-Kazdağı
Kuş cenneti
Bolu-Yedigöller
Bursa-Uludağ
Çanakkale -Gelibolu
Edirne -Gala lake
İstanbul-Belgrad
Antalya
İstanbul
Yalova
Ankara
SPORT ACTIVITIES
Golf
Tennis
Swimming
İstanbul
Antalya-Belek
Ankara
Muğla
Turkey
Turkey