Health Tourism



MEDICAL TOURISM: Turkey offers high standard facilities for thermal, medical and wellness tourism. Consequently, the country attracts high number of tourists mainly from European countries, Balkans, U.S and Middle East countries.
Many foreign patients prefer the Turkish hospitals in many fields of medicine such as open heart surgery, eye surgery, skin diseases, cancer treatments, dentistry on account of their low cost but high quality and technology standards.
Over 34 hospitals and medical institutions have achieved Joint Commission International accreditation recently in the coutry and most hospitals English-speaking doctors and medical staff that are certified by the Turkish Medical Association as well as being members of organizations according to their specializations.
The Allure Travel team will be ready to offer you most competitive travel packages with the co-operation of International Hospitals and Deluxe Hotels.

The top hospitals in Turkey for medical Tourism;
International Hospital

Acıbadem Healthcare Group

Anadolu Medical Center-Kocaeli, Turkey

Dünya Eye Hospital Group

Istanbul Memorial Hospital - Istanbul, Turkey

Florence Nightingale Hospital Group

Medical Park Healthcare Group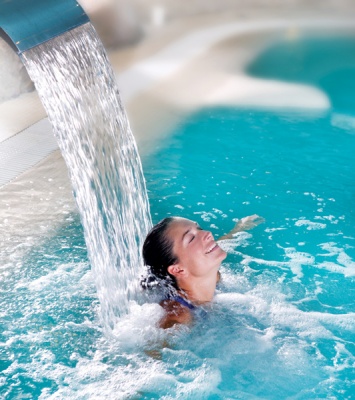 THERMAL TOURISM: Turkey is one of the 7 countries in the world in terms of thermal source richness with almost 1300 thermal springs throughout Anatolia. The temperature hot springs varies between 20-110 degrees Celsius (68-230 Fahrenheit), and their flow is between 2-500 liters per second. Most thermal places are in the Marmara and Aegean regions.
Most commonly visited Thermal Springs in Turkey;
Thermal Springs in Afyon
Hudayi (ph: 6.64-6.84); It's a small treatment center 66 km from Afyon, 7 km southwest of Sandikli. The water (75-80 C, radioactive) contains sulphur, hydro carbonate, sodium, calcium, carbon-dioxide, bromide and fluoride, and are good for drinking and bathing and benefit rheumatic, skin, gynecologic, and digestive complaints.
Orucoglu (ph: 6.4); Orucoglu Thermal Center, next to a modern 428-bed complex, is 14 km from Afyon. The temperature of the spring water is 49 C and it's rich in carbon dioxide, sodium bicarbonate, sodium chloride, bromide and fluoride. The water has beneficial effects on arthritis, sciatica, disc hernia, neuritis, neuralgia, lumbago, osteoarthritis, and is also beneficial after orthopedic surgery and various other surgical treatments, such as post-operative therapy. Patients with skin ailments like psoriasis, eating problems, stomach, intestine and gall bladder, kidney, urinary tract and gynecologic disorders, and muscle and nerve fatigue also benefit from it. The composition is good for balancing the iron ratio, and has rehabilitation value in the treatment of hemiplegia.
Gazligol; It's 22 km from Afyon on the road to Eskisehir. The water (40-71 C) benefits rheumatism, cardio vascular problems, digestive and intestinal complaints, kidney diseases, urinary tract, liver problems, metabolism disorders, orthopedic and skin problems.
Omer and Gecek; It's 15 km to Afyon on the road to Kutahya. The water (51-98 C) has benefits to cure rheumatism, skin disease, cardio vascular problems, intestinal and gall bladder complaints, liver, joints and arthritis, eating problems, neuralgia and gynecologic disorders.
Thermal Springs in Bursa
Cekirge (ph: 6.6-7.2); Most of the thermal springs, in both modern and historical settings, are in the Cekirge district of Bursa. The waters (47-78 C) contain bicarbonate, sulphur, sodium, calcium and magnesium. It's suitable for drinking and bathing cures, and are beneficial for rheumatic, gynecologic and dermatologic diseases, post-operational problems and for the metabolism. A wide range of accommodations in tourist to deluxe-class hotels are available, as is medical supervision.
Oylat (ph: 3.04-7.26); Approximately 27 km south of Bursa in Inegol district, the water is very warm; the steam bath is heated to 40 C and the spring waters to 10 C. The water contains sulphur, bicarbonate, calcium, hydrogen ions and iron. With diuretic properties, the drinking and bath cures have a relaxing and sedative effect. There are a couple of hotels and motels near the center.
Thermal Springs in Balıkesir
Gonen (ph: 7.36); Situated to the north of Balikesir, it has a treatment center with 381 beds. Thermal waters (52 C) contain sulphur, chloride, sodium, hydro carbonate and carbon dioxide. Suitable for both drinking and bathing cures, the waters are beneficial for dermatologic, liver, rheumatic, urinary and nervous complaints.


Thermal Springs in Yalova (p.h: 6.88-7.48); These thermal springs are situated 11 km southwest of Yalova with a capacity of about 800 beds between hotels and guest houses. The waters (57-60 C) contain sulphur, sodium and calcium, and are suitable for drinking and bathing cures beneficial for rheumatic, gynecologic, urinary and nervous complaints and controlling cholesterol and lipid levels.

Thermal Springs in Denizli
Pamukkale and Karahayit (ph: 5.98-6.26); It's located 20 km north of Denizli with over 500 bed total capacity hotels and motels. Thermal waters (42-56 C, radioactive) contain hydro carbonate, sulphur, calcium, carbon dioxide and iron, and are suitable for drinking and bathing helping heart and circulatory complaints as well as digestive, gall bladder, rheumatic and kidney diseases. Pamukkale is also a popular tourist destination in the Aegean region.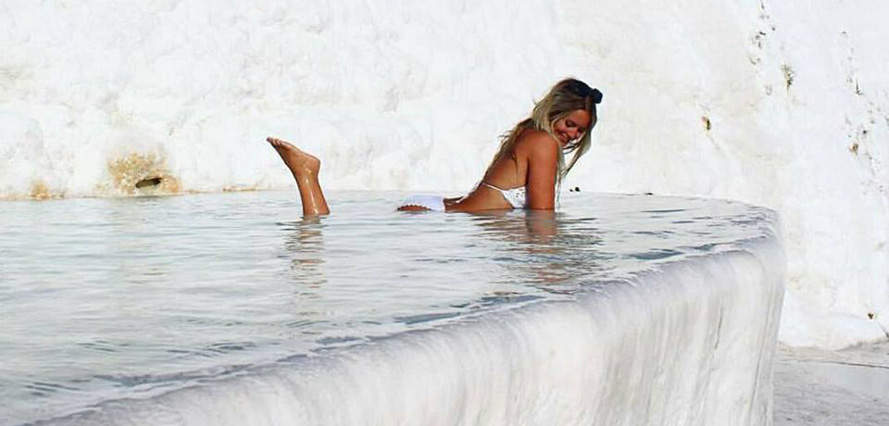 Thermal Springs in Sivas
Balikli (Yilanli) Cermik (ph: 7.3); This interesting and unique spa is situated 17 km northeast of Kangal in the province of Sivas. The water (36 C) contains bicarbonate, calcium and magnesium. The uniqueness of the baths comes from the fact that there are many small fish (2-10 cm long) in the water that play an important part in the cure of psoriasis. The waters are also beneficial for rheumatism, skin diseases, arterial sclerosis and gynecologic complaints. There are motels, restaurants and camping facilities as well as shop for provisions.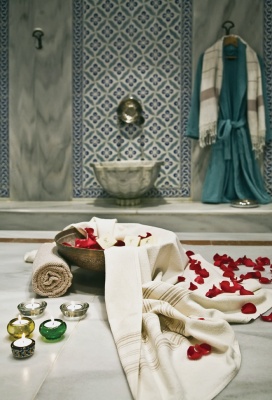 SPA TOURISM; The word Spa is an acronym of the Latin phrase "SANUS PER AQUA" meaning "health through water".
You could escape the limits of time and indulge yourself in one of THE ALLURE TRAVEL perfectly packaged programs for relaxation.
A spa journey would be perfect for couples celebrating their honeymoon or friends relaxing together. We will be proud to make your customized treatment packages while you enjoy the peace and tranquility of nature in different locations.
The best spa escapes in Turkey;