Turkey


Turkey, the country where nature, history, legend and nature have knitted a bridge between Europe and Asia, a country unlike any other all around the world. Well known as a great destination for relaxing beach holidays, the country also offers many sporting activities, some of the world's most important ancient monuments, welcoming Turkish hospitality and a delicious and varied national cuisine.
TURKEY VIDEOS
| | | |
| --- | --- | --- |
| | | |
| | | |


Economy

Turkey is a dynamic emerging market equipped with a network of developed infrastructure and a globally competitive work force. Its unique position at the crossroads of the world trade routes and its proximity to the developing energy producing regions in the Caspian and Central Asia are factors that further raise its potential for the coming years.

Turkey's civilian labor force is 24.3 million people as of end of 2004. Agricultural sector still employs around 1/3 of the labor force although share of agriculture in GNP is just above 10%. Nearly half of the employed are in the services sector and the ratio employed in the industrial sector is 18%.The unemployment rate of the country is around 9.7%.

Current account deficit almost doubled in 2004 and reached USD 15.6 billion USD corresponding to a historical high of 5.2% of GNP. In 2004, foreign trade deficit was 23.9 billion USD widening 84% compared to the previous year. Thus, the main factor in the rise of the current account deficit was the increase in imports and deteriorating trade balance. Growing economy activity fuelled imports through capital and intermediate goods imports. Exports were also strong however they increased at a lower pace compared to imports. Tourism revenues helped compensating by generating a revenue over 15 billion USD. In the capital and financial accounts, 16.8 billion USD inflow was recorded. FDI (Foreign Direct Investment) remained still at an insignificant level of 2.6 billion USD against the 1.7 billion USD in 2003. Current account deficit was financed mainly by portfolio investments amounting to 8.1 billion USD.

Main economic indicators in Turkey have been recovering and stability has been achieved in many areas especially in the last two years. Structural reforms within the framework of the IMF program, EU Harmonization Laws and sector regulations along with improvements in the investment environment have provided a more favorable business environment. The new Turkish Lira (6 zeros removed) has been launched as of the beginning of 2005. This is expected to further contribute to the monetary stability.

Climate

Turkey's climate is characterised by extremes, with temperatures varying greatly from season to season in the country's different regions. The Mediterranean and Aegean coasts of Turkey have very dry, hot summers, and the mild, though wet, winters occur between October and April, when the coastal towns tend to more or less shut down. Istanbul and Cappadocia can experience very cold winters, with light snow.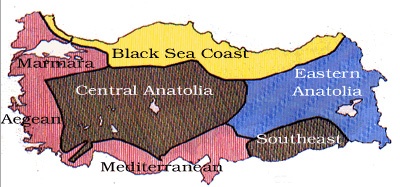 For sightseeing holidays to Istanbul and the most important ancient and medieval sights, and for active walking holidays, the best times to visit are spring (April-May) and autumn (October-early November) when days are generally warm and sunny but not uncomfortably hot. Rainy spells and cloudy days are possible, however, in spring and autumn, so the best months for a sun-and-sea holiday on the Aegean or Mediterranean coast are June to end September. Resort areas are most crowded from June until the end of August. In developing ski areas such as Uludag near Bursa and Palandoken near Erzurum, the best time to visit is between December and April.

Temperatures in and around Istanbul can vary from well below freezing in midwinter to above 40C in summer. The Aegean and Mediterranean coasts experience the hottest summers, with highs of 45C, but midwinter temperatures as low as -5C. Mountainous Eastern Turkey has the most extreme climate of all, with winter temperatures as low as -43C and highs up to 38C. The climate of the Central Anatolia is also extreme with summer highs of 40C and winter lows of -25C. Turkey's Black Sea coast, 1700 km/1000 miles long, is surprisingly lush and green because of its 781 mm/31 inches of annual rainfall dropped as the winds crossing the Black Sea rise to vault the coastal mountains. It's cloudy much of the time , which seems to suit the tobacco fields. Southeastern Anatolia down near Syria on the banks of the rivers Tigris (at Diyarbakır ) and Euphrates (near Şanlıurfa ) it's hot most of the time: up to 46C/115F in high summer and-unusually-a low of -12C/10F some winters. The best time to visit is anytime except summer (mid-June through mid-September).
Language

Turkish (Türkçe) is spoken as a native language by over 77 million people worldwide, making it the most commonly spoken of the Turkic languages. Its speakers are located predominantly in Turkey and Northern Cyprus with smaller groups in Iraq, Greece, Bulgaria, the Republic of Macedonia, Kosovo, Albania and other parts of Eastern Europe. Turkish is also spoken by several million immigrants in Western Europe, particularly in Germany.